Third-Party Precise Controlled Dehumidifier For Growing Easy Connection To Your Grow Facilities
fast quote
China industrial wet film humidifier manufacture wholesale | East Humidifier OEM ODM Manufacturing
The wet film humidifier uses the evaporative nature of water to continuously send water to the upper part of the wet film through a water pump and a distributor. Under the action of gravity, the water returns to the main water tank through the wet film to form a circulation.When the dry air passes through the wet film, the air fully contacts the wet film, the sensible heat in the air vaporizes the water, and the temperature increases to achieve the purpose of humidification.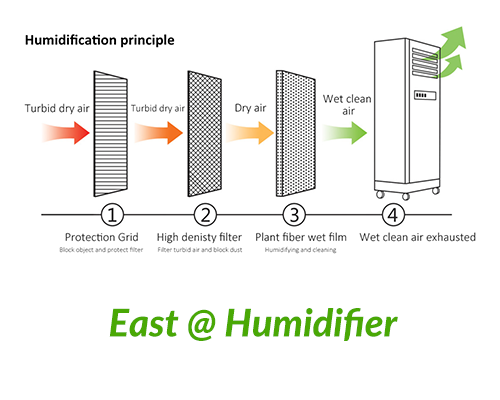 EAST Advantages   

✔ Over 12 years expeirence humidifier manufacturer
✔ ISO9001:2015 certified manfuacturer
✔ Humidifier customization based on environment requirement
✔ Strict QC system, 48 hours running test for every unit before delivery
✔ High quality famous brand components
✔ Advanced manufacture technology with assemble line
✔ ± 2 weeks fast delivery
✔ Quality spare parts provided in the order 
EAST dehumidifier is committed to exceed the limit of nature by everlasting development of moisture removal technology apply to different environment. EAST dehumidifier have been spending more on the researching of raising the efficient and moisture removal capacity, lowering power consumption.
Hi, Welcome. How can I help you?