Third-Party Precise Controlled Dehumidifier For Growing Easy Connection To Your Grow Facilities
fast quote
Air Conditioning Dehumidifier
China air conditioning dehumidifier manufacture & wholesale | East Dehumidifier OEM ODM Manufacturing
The temperature regulating dehumidifier, also known as the air conditioning dehumidifier, uses an evaporator and a condenser to process the air, so as to achieve the purpose of temperature regulation and dehumidification. It recovers the condensation heat of the system during its work to make up for the heat lost during cooling and dehumidification in the air. It is an efficient and energy-saving dehumidification method. It has been widely used in national defense engineering, civil air defense engineering, tobacco and petrochemical industries, subway stations, and aerospace. Purification engineering, laboratories, telecommunications equipment rooms, archives, food rooms, pharmaceutical or film workshops, special glass manufacturing, dehumidification and drying of grain, wood, etc., and dehumidification and temperature control of high-humidity spaces, etc., where dehumidification requirements are required.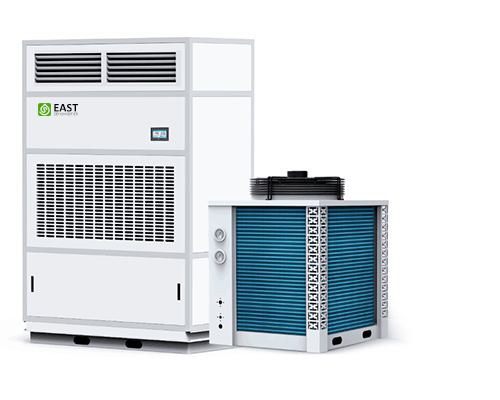 EAST Advantages   

✔ Over 12 years expeirence dehumidifier manufacturer
✔ ISO9001:2015 certified manfuacturer
✔ Verified dehumidifier units
✔ Strict QC system, 48 hours running test for every unit before delivery
✔ High quality famous brand components
✔ Advanced manufacture technology with assemble line
✔ ± 2 weeks fast delivery
✔ Over 100+ dehumidifier models, 1000+ project cases
Dehumidifier capacity - 10 liters per hour @ 86℉, RH80% | East Dehumidifier OEM ODM Manufacturing
Dehumidifier capacity - 20 liters per hour @ 86℉, RH80% | East Dehumidifie OEM ODM Manufacturing
EAST dehumidifier is committed to exceed the limit of nature by everlasting development of moisture removal technology apply to different environment. EAST dehumidifier have been spending more on the researching of raising the efficient and moisture removal capacity, lowering power consumption.
Hi, Welcome. How can I help you?